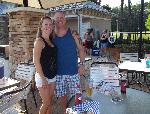 Cabana Night 2014
Click on the picture to
view the entire album
Today's Events
Tomorrow's Events

Current Conditions:
Fair, 67 F
Pay Dues Online
Stonehurst Plantation News
Prez Sez Blog

Click Here to view the latest from the Prez.

BOARD OF DIRECTOR ELECTION

In September 2013 F.S. Chapter 720.306 (9)(a) was amended to read: An election is not required unless more candidates are nominated than vacancies exist. The deadline for candidate applications was September 30, 2014. No applications other than the existing Board members were received. Therefore, based on the amended statutes, NO BOARD OF DIRECTOR ELECTION WILL HELD at the December 3, annual homeowner's meeting.

Fall Community Yard Sale

Community Yard Sale Saturday, November 8, 2014. Clean out the closets and clean out the garage- The Stonehurst Plantation Community Yard Sale is Saturday, November 8, 2014. Beginning at 8:00 am. Let's see how many homes we can get to participate this year.

Attention Renters!

If you have a pool card it will be de-activated at the end of your lease agreement. If you choose to renew your lease, you will need to contact Stazac Management to be sure your card is not de-activated.

Why Can't We Get Comcast?

We have had many residents contact us asking why they could not get Comcast and why did they have to use Litestream.

When the community was first established Litestream had already worked a deal with St. John's County giving them the rights certain parts of St. Johns County which included the community. In doing this County Ordinance 2002-12 was passed.

With this said, Stazac Management nor the Stonehurst Plantation HOA board of directors have any authority over the County Ordinances.

It is true that Comcast is in the area, however, Litestream Technologies has aerial and underground fiber on CR 210 from Phillips Highway to 4 miles west of I-95. Comcast Cable has underground cable approximately 36" deep on CR 210, aerial cable on Leo Maguire, 36" deep underground cable on International Golf Parkway, and aerial cable on Pacetti Road and SR 16. Comcast would not be allowed (by county ordinance) to enter into Stonehurst Plantation without an agreement by Litestream AND the county.

In order for Comcast to establish in the community, homeowner's would need to approach the county's board of directors and ask for a change in the ordinance. This would also be assuming Comcast wanted to add the community. There is no infrastructure in place within the community for Comcast. They would have to spend a very large amount of money to put in the infrastructure.

Stonehurst Mailbox Suppliers

Do you need to refurbish or make repairs to your mailbox? Click here for a list of mailbox suppliers for Stonehurst Plantation HOA.
NEWS STORY OF THE MONTH
Top 10 Savings Tips
From FPL
Effective Ways to Conserve Energy

Listed below are some of the quickest and most effective ways to help you conserve energy, trim costs, and gain control over the energy usage in your home. You should post these tips in your home so that everyone can join in and save!

Limit the time you run your pool pump:

Summer - six hours a day
Winter - four hours a day

Cool your home at 78 degrees or warmer with the thermostat fan switched to auto. For additional savings, raise your thermostat to 82 degrees or warmer when you're away.
Heat your home at 68 degrees or cooler with the thermostat fan switched to auto. To save even more, lower your thermostat to 65 degrees or cooler at night or when you're away from home.
Reduce your water heater temperature from 140 degrees to 120 degrees, which is the recommended temperature setting according to the U.S. Department of Energy, to save about $2 a month.
Clean or replace the A/C filter regularly to help your unit run more efficiently and trim cooling costs.
Turn off your ceiling fan when you leave the room. A fan that runs all the time costs up to $7 a month.
Replace old, high-flow showerheads with water-efficient showerheads and save up to $80* a year.
Adjust the water level on your washing machine to match the load size, especially when using hot water. Always use a cold rinse.
Clean the lint filter in your dryer before every load to dry your clothes faster.

10. Use the auto sensor function on your dryer to conserve energy by not over-drying your clothes.

* Annual savings calculated based on two people in the home using water-efficient showerheads.
Take the Showerhead Test
Here's an easy way to determine if your showerhead is water efficient. Take the showerhead test.
Get a bucket and a watch/clock that counts seconds.
Place the bucket underneath the showerhead.
Turn the shower on all the way using cold water.
Time how long it takes for one gallon of water to fall into the bucket.

Check Your Timing
If it takes:
Less than 24 seconds to fill a gallon of water, then you do not have the most efficient showerhead because its flow exceeds the recommended 2.5 gallons per minute.
More than 24 seconds to fill a gallon of water, then you have an efficient showerhead.