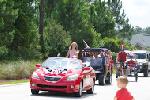 2014 4th of July Parade
Click on the picture to
view the entire album
Today's Events
Tomorrow's Events

Current Conditions:
Cloudy, 75 F
Pay Dues Online
Stonehurst Plantation News
Prez Sez Blog

Click Here to view the latest from the Prez.

It's That Time of Year Again

It is that time again to elect the Board of Directors for the community. Five (5) board seats will be elected at the annual meeting to be held at the end of the year. The date and time is still pending.

If you are interested in running for the Board of Directors, please complete the ONLINE "Candidate Form" click here.......

by September 30, 2014. Any forms received after September 30, 2014 will not be considered.

PLEASE INCLUDE A JPEG PHOTO.

Fall Community Yard Sale

Community Yard Sale Saturday, November 8, 2014. Clean out the closets and clean out the garage- The Stonehurst Plantation Community Yard Sale is Saturday, November 8, 2014. Beginning at 8:00 am. Let's see how many homes we can get to participate this year.

Attention Renters!

If you have a pool card it will be de-activated at the end of your lease agreement. If you choose to renew your lease, you will need to contact Stazac Management to be sure your card is not de-activated.

Helping Hands of St. Johns County in conjunction with Faith Community Church would like to invite the community to a formal dedication of the Community Garden that benefits the Celebration Food Bank. The dedication will take place on Sunday, November 2, 2014 at 3PM on the Church grounds at 3450 CR210West next to Cimarrone. The garden, was designed and built by Ammon Burmeister as an Eagle Scout project. This young man expanded and improved the current garden, started by Helping Hands in the the spring and fall crops have been planted. Ace Hardware at Julington Creek donated many of the plants. In addition to recognizing Ammon, Helping Hands would like to acknowledge Pastor Wayne Bauer of Faith Community Church, Johns Nursery, Ace Hardware, Diane Conklin of Celebration Food Bank and its own members that help tend and weed the garden and deliver the produce to the food bank. . All produce is shared with the food bank on Roberts Road. Please join us in celebrating this worthy endeavor. Light refreshments will be served. Contact jacqphil@aol.com for more information.

Why Can't We Get Comcast?

We have had many residents contact us asking why they could not get Comcast and why did they have to use Litestream.

When the community was first established Litestream had already worked a deal with St. John's County giving them the rights certain parts of St. Johns County which included the community. In doing this County Ordinance 2002-12 was passed.

With this said, Stazac Management nor the Stonehurst Plantation HOA board of directors have any authority over the County Ordinances.

It is true that Comcast is in the area, however, Litestream Technologies has aerial and underground fiber on CR 210 from Phillips Highway to 4 miles west of I-95. Comcast Cable has underground cable approximately 36" deep on CR 210, aerial cable on Leo Maguire, 36" deep underground cable on International Golf Parkway, and aerial cable on Pacetti Road and SR 16. Comcast would not be allowed (by county ordinance) to enter into Stonehurst Plantation without an agreement by Litestream AND the county.

In order for Comcast to establish in the community, homeowner's would need to approach the county's board of directors and ask for a change in the ordinance. This would also be assuming Comcast wanted to add the community. There is no infrastructure in place within the community for Comcast. They would have to spend a very large amount of money to put in the infrastructure.

Stonehurst Mailbox Suppliers

Do you need to refurbish or make repairs to your mailbox? Click here for a list of mailbox suppliers for Stonehurst Plantation HOA.
NEWS STORY OF THE MONTH
Prepare For What Will Happen!
If you are in a disaster, remember:

Hurricanes are a part of the normal weather in many parts of the world. These enormous storms can be very dangerous to people and property, and everyone must prepare for the chance that a hurricane will affect them sometime. Since most of the time these storms begin far away from Florida, there is time for people to evacuate to a safe area before the dangerous weather comes to your area. Officials in the county where you live will advise you of the need to evacuate to a safe place, but you must have a plan to know where to go, how to get there, and what you need to bring.

Even if you do not need to evacuate, you need to have some supplies ready, and you need to know what to expect.

Telephone service may be interrupted.

Electricity may be lost. This means no lights, air conditioning, electric heating, and elevators. Refrigerators and electric stoves will not work and you may have no hot water. Also, because of lost water pressure toilets may not flush. Without electricity you cannot run mechanical breathing aids; you will not be able to recharge a power wheelchair. Only battery operated clocks, radios, televisions, and other appliances will help you.

At Work and At Home - Keep a flashlight, battery operated radio and fresh batteries handy.
A fire is much more possible than under normal conditions. In or near any building or residence, there may be a ruptured gas line, torn electrical wiring, or spilled flammable fluids.

At Home, Have a Fire Extinguisher Handy.

At Work, Know Where the Nearest Two Extinguishers Are Located. Know How To Direct Someone To Turn Off Your Gas If You Cannot Do So Yourself.

Don't expect help from fire and police personnel for at least 72 hours: they will be busy with the most crucial situations. Some emergency shelters are up and running two or three days before a major disaster, and others may become operational soon afterward.

Be Mentally Prepared to Rely on Your Own Resources And the Help Of Neighbors and Work Colleagues During the First 72 Hours After a Major Disaster.

When a major disaster occurs, be ready for serious problems with transportation. Roads may be closed; a freeway may be blocked; bus service will be erratic; Dial-A-Ride service will be disrupted. It can take up to three days for emergency water to get to your area. Every person should store at least 3 gallons, and more for those people who need extra water. And still more if you have a service animal. It is best to store filtered water because it will stay fresher during a long storage. (Replace the water every few months.) If you are staying in your own home, filling your bathtub with water may be helpful. If the water is shut off for some time, you can use a bucket to flush your toilet.
In the days following a major event, many people find themselves easily distracted, strangely absent-minded, and occasionally losing track of keys, phone numbers, and other things. If you experience this, don't worry greatly--it is a normal reaction to the stress of a being in a major disaster.

It may take several days before order is restored and you can replace even the simplest disability related items like hearing-aid batteries and prescription medications. Keep spares and backup supplies at home or at work.